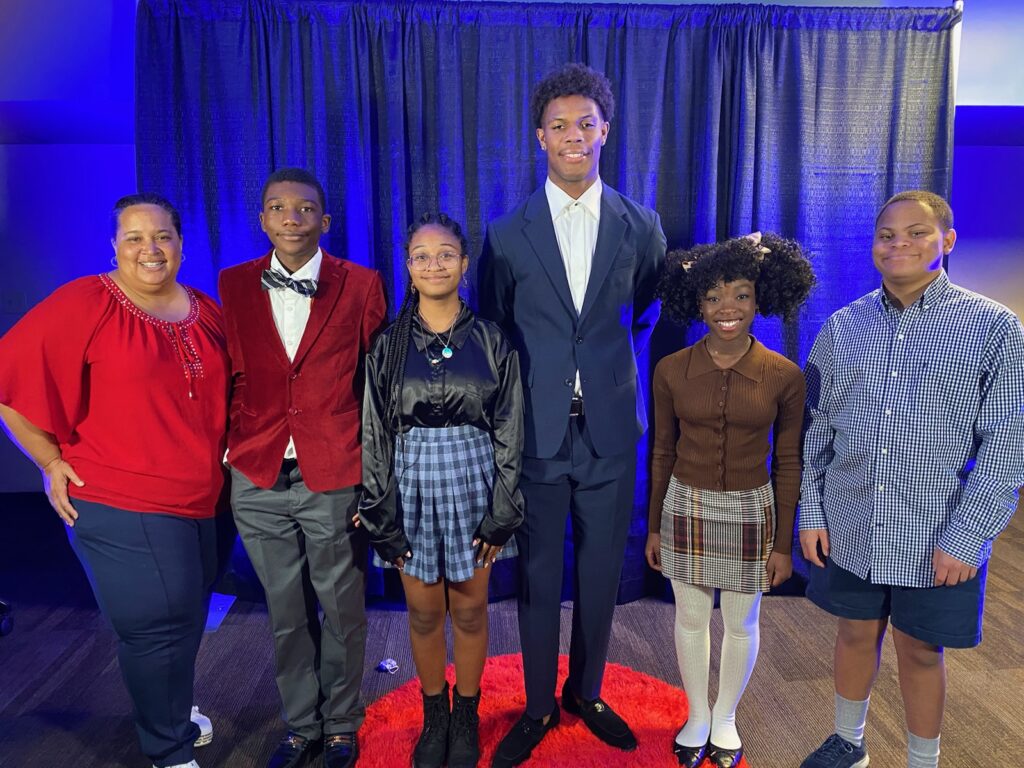 The 2022 speakers included eighth-grader Robert D. Brown Head Middle Magnet School, ninth-grader Zeboreh H. Bynum (Hume-Fogg Academic High School), seventh-grader Iyanuoluwa Fidelis Otukpe (Valor Flagship Academy), and seventh-grader Lillian Floyd-Thomas (Harpeth Hall School). Rounding out the group was twelfth grader Isaiah William Horton who attends Oakland High School in Murfreesboro, Tenn., and is headed to Miami University on a four-year football scholarship to study sports medicine.
Robert D. Brown aspires to become a pilot and computer science, engineer. He is co-president of the 10th cohort of Dr. Katherine Y. Brown (KYB) Leadership Academy. He has presented at three KYB Leadership Academy international conferences, specifically in Dubai, UAE, Costa Rica, and the Turks and Caicos Islands, including leading an additional workshop in Costa Rica on designing paper airplanes. He is the youngest of 4 children and enjoys designing paper airplanes, drawing, baking, singing in the Vanderbilt Blair choir, playing soccer, and traveling. A native of Chicago, Illinois, he enjoys time with his family and caring for two rescue dogs. In his spare time, he enjoys community service and is active in many organizations, including Top Teens of America, Kappa League, and Jack and Jill of America, Inc. View TEDx Talk.
Isaiah William Horton was a four-star letterman on football and basketball teams in high school. He's a member of the Fellowship of Christian Athletes and serves as the DECA Club's ambassador. Isaiah served as editor of the U.S. Army Civil Affairs and Psychological Operations Command (Airborne) Teen Council. As a committed public servant, Isaiah has volunteered to build houses in low-income neighborhoods with Habitat for Humanity in addition to other areas in need including the Second Harvest Food Bank, and the Rescue Mission. He intends to study Technology and Business Finance at Miami University, where he has been awarded a four-year football scholarship. View TEDx Talk.
From a young age, Zeboreh H. Bynum used sign language to communicate. Now 15, art, choral, theater, and photography are some of the mediums she uses to express herself. The Southern ACDA Honor Choirs and Middle Tennessee Vocal Association Elementary Honors Choir are among her choral accomplishments. She performs in community theater and volunteers with the Girl Scouts vaqueras program. Zeboreh is also a member of Dr. Katherine Y. Brown (KYB) Leadership Academy and president of her cohort (#16). In December 2021, she participated in the KYB Leadership Academy international conference on the Turks and Caicos Islands. In spring 2022, she landed the role of Julia in Birthday Wishes for Emilia, presented by Theatre Bug in partnership with YODA (Youth Overcoming Drug Abuse). She hopes to major in biology in college and hopes to work as a veterinarian. View TEDx Talk.
Since the age of 6 years old, Lillian Floyd-Thomas has been a budding young artist who turns STEM into STEAM! At 13, Lillian is an award-winning orator and accomplished performer celebrated for her gift of putting knowledge to work for the good of humanity, not just physically but socially, culturally, and spiritually. According to Lillian, "bringing the arts to STEM shows that the WHOLE person, mind, body, and soul, is the best way to advance our future." As demonstrated through her leadership in Girl Scouts Troop #381, oratory skills, music appreciation as a trained pianist, and liberal arts education as a Harpeth Hall 7th grader, critical conversations are Lillian's specialty as she leverages both hard and soft skills to share creative insights to solve humanity's problems. View TEDx talk.
Iyanuoluwa Fidelis Otukpe. In the Yoruba language, Iyanu's name means God's miracle and that is exactly what he is! Born at 28 weeks at less than two pounds, he spent nearly 3 months in the NICU. Starting out as a preemie has had its challenges but Iyanu has faced them all with grace and resilience. He loves science, video games, music, Harry Potter, and Shakespeare. Iyanu never meets a stranger and loves to travel. His dream trip is to see his father's country, Nigeria, one day. Iyanu is a member of the Blair Young Men's Chorus. In spring 2022, he took on the Genie (understudy) role in Valor Academy's spring musical, Aladdin Jr. Iyanu plans to attend college at an HBCU, and his career aspirations change daily. View TEDx Talk.
Five Tenn. students spoke about science, technology, engineering, art & math (STEAM) at TEDx@JeffersonStreet sponsored by the Division of Public Health Practice at Meharry Medical College. Organized by Trenay Perry Bynum.

Tweet